My name is Tom Cruz, and I am the creator of Exercise 101 – Enhance Your Life.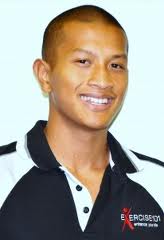 I  endured a career ending double knee surgery in 2006-07 which put my love and passion for the sport of Basketball to a halt.
Following the operation and being reduced to non-physical activities, I became interested in the background of sports and health.  I went on to research sport injuries, nutrition and sport science and discovered a newfound passion for exercise and the human body.
After self-guided learning on the importance of strength training and fitness, I decided to further my studies and development at the Australian Institute of Fitness.
During my studies at A.I.F., I was exposed to the world of fitness and learnt that to maintain a healthy body and lifestyle, one must exercise, have adequate rest and proper nutrition.
My passion was fuelled by wanting to help sedentary individuals be more active and decrease Australia's obesity rate.
Subsequent to gaining my Master Trainer qualifications, Exercise 101 – Enhance Your Life was launched to help not only beginners, but also those individuals that were not attaining the right guidance and achieving the results they desired.
Email: info@exercise101.com.au
Phone: 0411 036 358